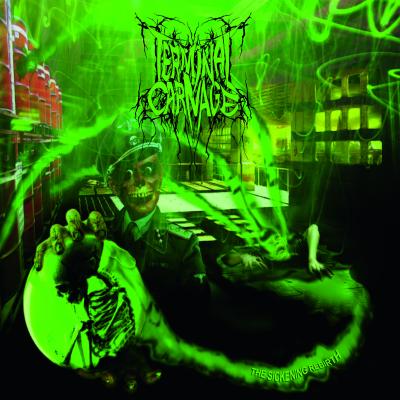 TERMINAL CARNAGE - The sickening rebirth
Style : Old-school death metal
Country : Germany
Availability : in stock
DESCRIPTION
Chaos is the new world order and humanity unable to learn from the past. Digitalization controls life and the society degenerates....2020 was a year that emphasizes what TERMINAL CARNAGE hammered on their debut album THE SICKENING REBIRTH.
Stefan Walter (guitars, bass and vocals) formed the Old School Death Metal project TERMINAL CARNAGE in winter 2019. Initially a one-man project, Stefan composed and simultaneous recorded various songs for his project in his home studio (Warhead Productions Studio, Wiesenttal, Germany).
In just three months Stefan had the complete material for the album ready, including lyrics, vocals and artwork. Markus Zillig a former band member of Stefan was asked to join the project contributing the drums and agreed.
The Death Metal tank TERMINAL CARNAGE was rolling!
The final mix and mastering was done by Simon Hammer (Rebound Studio, Nuremberg).
THE SICKENING REBIRTH started to live and is now ready to be unleashed!
The album features 9 tracks of groovy Old School Death Metal, flavored with catchy, devastating riffs, killer-drums and bone-cracking vocals!
Each song a unique hymn, an anthem to the roots of Old School Death Metal with enough soul to be outstanding of its kind!
TRACKLIST
1- Future shock (intro)
2- Involuntary organ donor
3- The sickening rebirth
4- Dead mass (the doom of mankind)
5- Bereaved cry
6- Chaos of the new world order
7- Least evil
8- Years of demise
9-Obituary after death