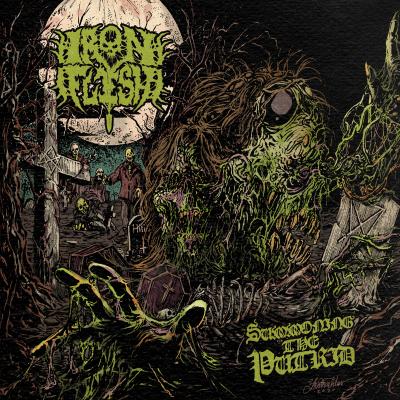 IRON FLESH - Summoning the putrid
Style : Old-school death metal
Country : France
Availability : in stock
Summer sale
Save 36.4% on this product
This offer is valid until September 11 2022
Special Price:
$8.81
Regular Price:
$13.85
DESCRIPTION
"Summoning the Putrid" second album of the band following the excellent "Forged Faith Bleeding" .
All the limits have been pushed in terms of song writing and production .
Influenced by the Scandinavian scene from the 90's, Dismember, Grave, Entombed as head liner; stronger new influences from England ( Carcass ) or the USA ( Death, Autopsy ) can be now heard in the music .
Here, no keyboard or clean vocals, only old school death metal driven by the typical sound of the boss HM2 .
H.P. Lovecraft universe is perfectly melting with ghoulish spells contained into Iron Flesh lyrics .
A successful bet for a second album with a stronger personnality .
TRACKLIST
1- Servants of oblivion
2- Relinquished flesh
3- Demonic enn
4- Purify through blasphemy
5- Cursed beyond death
6- Death and the reaper's scythe
7- Incursion of evil
8- Thy power infinite
9- Convicted faith