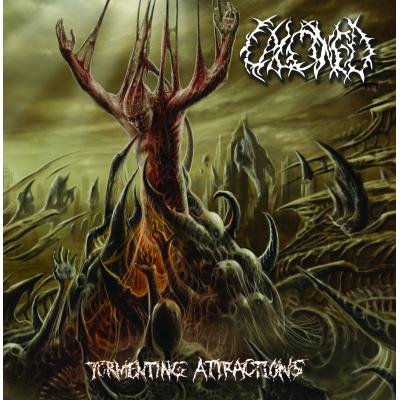 CALCINED - Tormenting attractions
Format :
Style : Death Metal
Country : Switzerland
Availability : in stock
Winter sales
Save 50% on this product
This offer is valid until April 20 2020
Special Price:
3.50 €
Regular Price:
6.99 €
TRACKLIST
1- Funeral passage
2- Inner abyss (the imperfect birth part 1)
3- Gazoline and smoked bones
4- Led by voices (all about Ron F)
5- They wait in silence
6- Yggr the mountain
7- Neurotic murder
8- Roots above my head
9- Powerless (the imperfect birth part 2)
REVIEWS
Raised in 2008, CALCINED, Death Metal band from Fribourg, Switzerland gathers some freaks devoted and passionate by the extreme Metal scene. 
Around Lionel -Drums- and Piffeux -Bass/Backing Vocals-, quickly the band began to write some old school, chaotic and furious compositions that lead to the recording of an album EP Thwarted, released in 2011 with Magnus, the newcomer singer. 

In March 2012, they began the recording of a split-album Death Illumination released in July 2012 on the label Metal Scrap Record with the polish band REGICIDE DECEASE. 

Jeje replaced Lulu behind the six-stringed axe and they began to do a lot of gigs. especially with Inveracity, Carnal Decay, Internal Suffering , Waste off Human, Cauchemar, Putridity, Perverse Dependance, Pighead, etc... and we flew to Ukraine for 7 gigs in 7 days!

Since spring 2013, the band are working on some new tunes, more rabid but ever driven by pure anguish and dementia then during winter 2013-2014, we began the recording of all of these polymorphic creatures. We release our first album Tormenting Attractions with 9 tracks more voracious than ever release the 24 of January 2015.