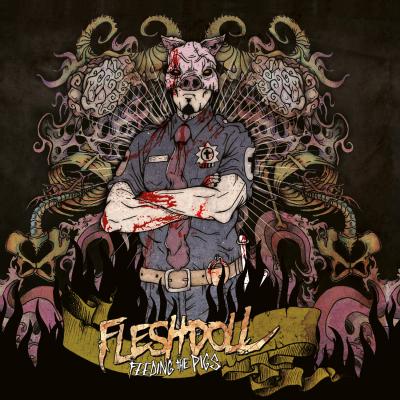 FLESHDOLL -
Feeding the pigs
Style : Death Metal
Country : France
Availability : in stock
Winter sales
Save 30% on this product
This offer is valid until April 20 2020
Special Price:
4.89 €
Regular Price:
6.99 €
DESCRIPTION
Troisième album pour les Toulousains de FLESHDOLL qui ont recruté l'ancien batteur de GOROD. La grande force de FLESHDOLL, c'est de pouvoir créer des hymnes Death Metal qui restent en tête durant des heures, comme l'ont fait avant eux OBITUARY, BOLT THROWER et consorts.
TRACKLIST
1- Feeding the pigs
2- Collateral murder
3- A feast for the rats
4- The wolf
5- Dead monochrome
6- The hollow men
7- The shadow of a man
8- Ecstatic random carnage
9- King of patusan
9- Debt of blood
10- North sentinel island
REVIEWS
Some things don't change, such constancies that, far from getting fossilized, still manage to be gut-wrenching. It's the case of high-end bourbon. Or of death metal. FLESHDOLL pursues both with great care.
After W.O.A.R.G (2005) and Animal Factory (2010), FLESHDOLL released its third album Feeding The Pigs (Great Dane Records)in 2013, with Sam Santiago (exGorod) as drummer. The band made a tour in Japan (Tokyo, Sendai, Osaka, Shizuoka, Fukouka, Hiroshima) with Vomitory, Beyond Creation & Defeated Sanity, across Europe (Berlin, Hambourg, Möst, Deinze, Amsterdam, Weissenfels, Chemnitz, Katowice, Poznan, Aalen, Munich) with Ressurection & Cremation and in France with Loudblast & Benighted. A new album Blood Red District is out in june 2015, thanks to Great Dane Records (No Return, Mercyless, …) again, and FLESHDOLL is always looking for some live action! You've been warned!